Add a little superhero pizzazz to your school or office supplies with our eraser sets here at Superheroes Direct. Both kids and adults will enjoy having their favorite hero or villain perch on top of their chosen writing utensil. We bring comic fans a variety of characters in eraser form with our Marvel and DC Comics 4 piece sets, including members of the Justice League, Avengers, X-Men, Fantastic Four, and various members of the Bat family as well as many popular villains, such as Magneto, Joker, the Green Goblin, Harley Quinn, and Doctor Doom. Fun additions to any pen or pencil, these highly detailed superhero erasers are rendered in bright, eye-catching colors. Collectible and cute, our eraser sets make excellent gifts for any superhero fan.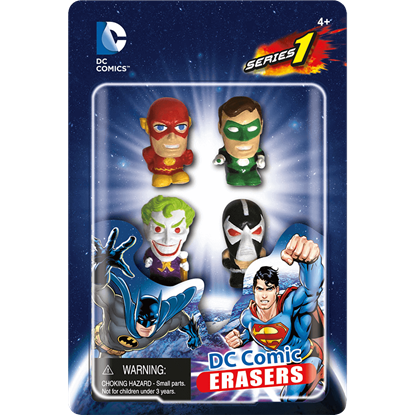 Item # MG-45153
Two superheroes go up against two diabolical villains in this 4 Piece DC Heroes and Villains Eraser Set! Add this set to your collection of writing accessories for an exciting and unique way to show off your love of comic books.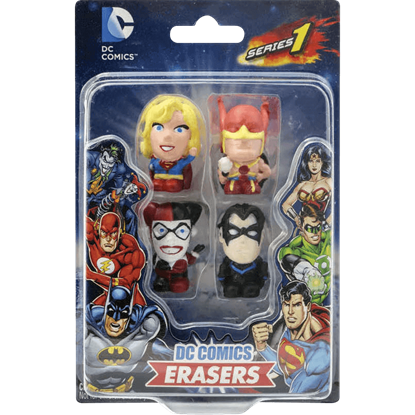 Item # MG-45154
Incorporate your love of action-packed comic books into your school or office supplies with a fun set of pencil toppers! This DC 4 Pack Eraser Set makes four of your favorite characters just the right size to fit atop your pencil.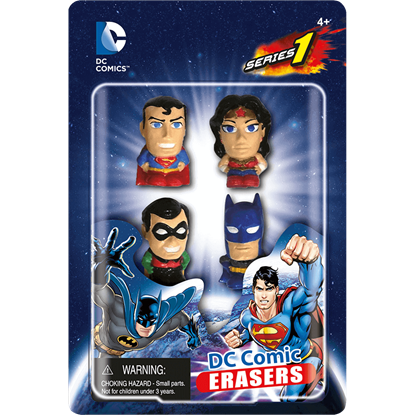 Item # MG-45152
Mix and match your favorite superheroes every day with this DC Heroes 4 Pack Eraser Set! With four of the worlds most beloved heroes included, this set is the perfect way for fans of classic comic books to enhance their collection.