Oswald Chesterfield Cobblepot became known as the Penguin when he turned to a life of crime. A high class criminal, the Penguin wears a full suit and top hat, dressed to the nines as he runs with the local mobs, steals luxury items, and manages the Iceberg Lounge. Fond of utilizing his umbrella, he keeps all manner of weapons stored within its folds, from machine guns to swords. Appearing in live action TV as early as the 1960s, the Penguin has since appeared in animation, film, and video games. At Superheroes Direct, this distinguished villain also appears on our collectibles and apparel. Featured alongside other Batman villains on our t-shirts, we also offer Penguin drinkware sets, keychains featuring the Penguin grinning, bust banks, Penguin collectibles, and other Penguin home decor.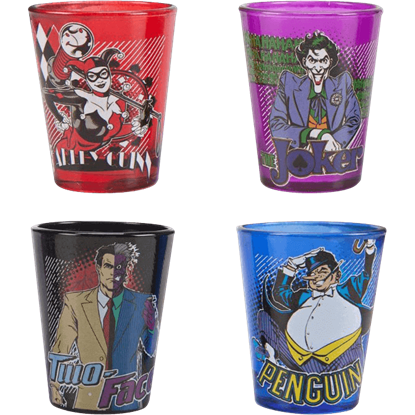 Item # NW-BN031SG8
The only characters from the comic books you know and love that are more iconic than the heroes are, well, the villains! Showcase your favorite adversaries of the Caped Crusader with the Batman Villains Four Piece Shot Glass Set!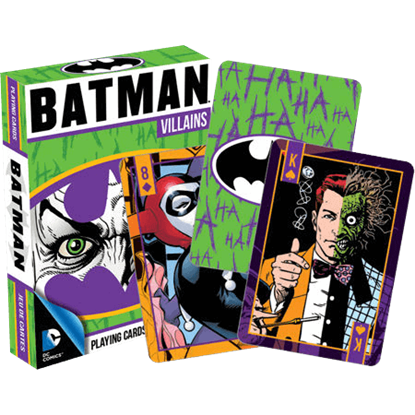 Item # ND-52265
While superheroes get most of the attention, sometimes the villains deserve interest, as well. The DC Comics Batman Villains Playing Cards let you to show your support for the many clever enemies of the Dark Knight with a 52-card deck.