Real name Edward Nigma, the Riddler has always been fascinated with perplexing puzzles. Incorporating his signature style of criminal strategy, the Riddler is a powerful adversary to Batman, first appearing in 1948 and plaguing Gotham City with his sadistic puzzles ever since. Famously portrayed by Jim Carrey in the 1995 Batman Forever film and most recently appearing on TV show Gotham, this character carries his signature question mark cane with him wherever he goes. Here at Superheroes Direct, we offer all variety of apparel and collectibles, such as our drinkware sets displaying Riddler among other villains of Gotham, Riddler t-shirts for both adults and children, keychains, busts, and more all featuring this grinning purple and green criminal mastermind.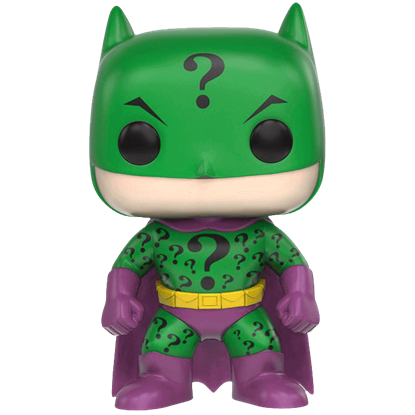 Item # FK-10779
The Caped Crusader is in strange mood for conversation today. Puzzling questions and clever phrases burst endlessly from his mouth. The heroic vigilante of Gotham is not quite himself in the Batman Impopster Riddler POP Figure.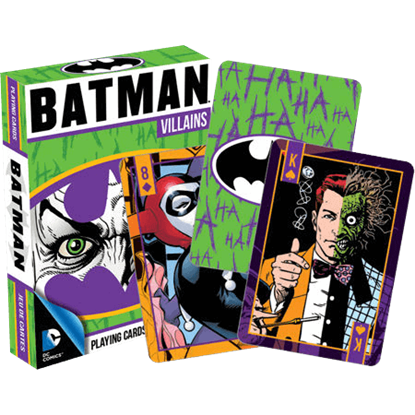 Item # ND-52265
While superheroes get most of the attention, sometimes the villains deserve interest, as well. The DC Comics Batman Villains Playing Cards let you to show your support for the many clever enemies of the Dark Knight with a 52-card deck.