Going from inexperienced crime scene investigator to a heroic metahuman is quite a challenge, but Barry Allen makes it look easy and fun. Watch him zoom across the multiverse to defeat the supervillains, unravel evil plots, discover fellow superheroes, form new alliances, and whatever daring deeds fate –or clever writers- may have in store. Fans from every corner of the globe enjoy the Flash as depicted by Grant Gustin in this fantastic series. At Superheroes Direct, we have amassed a fine collection to prove this superhero looks fetching in whatever form. If you enjoy adding the fantastic style of the Flash to your own, we have a trendy selection of t-shirts, hoodies, socks, jewelry, and so forth. Perhaps you enjoy enhancing dull surroundings with his stunning image. Our merchandise includes a dynamic array of action figures, POP! bobbleheads, magnets, keychains, travel mugs, and much more. The wise viewer will stay tuned - many exciting collectibles are heading your way.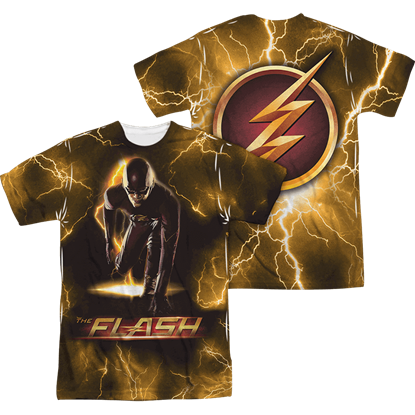 Item # ZB-2210
Fans of DC Comics can enjoy one of their favorite characters in a new way in The CWs The Flash TV show! The Front and Back The Flash Bolt T-Shirt features a fantastic rendering of the Flash in a running pose on the front.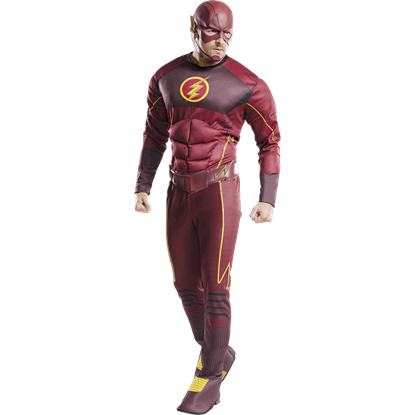 Item # RC-810394
After being struck by lightning, crime scene investigator Barry Allen discovers that he has gained the superspeed and takes on the role of The Flash. The Mens Deluxe Flash Costume transforms you into this DC superhero.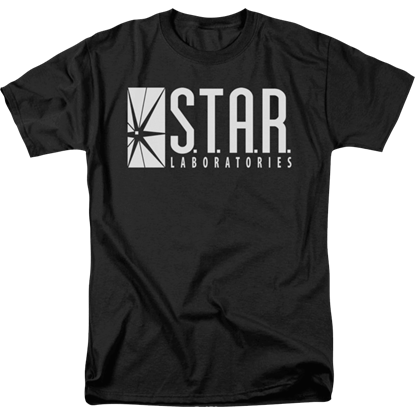 Item # ZB-2207
Freshly brought to life on The CW, The Flash tells the story of forensic crime investigator Barry Allen, who gains superspeed after a freak accident at a lab. The Flash S.T.A.R. Laboratories T-Shirt displays the logo of the lab.