Shop our Towels and Shower Curtains category here at Superheroes Direct for our selection of these essentials, all decorated with graphics from favorite TV series, movies, video games, and comics. Our beach towels, such as our Doctor Who TARDIS Beach Towel, are great for laying out on the beach or at the side of a pool, displaying your fandom as you swim or sunbathe. Though a vital item of home decor, shower curtains do not have to be boring. Shop our selection of pop culture shower curtains to add superhero, sci-fi, or fantasy style to your bathroom. Keep checking back here at Superheroes Direct for more updates to our growing supply of pop culture towels and shower curtains.
Item # RB-12265
After a long soak in a steaming tub, there is nothing quite like wrapping yourself in a blood red towel and sitting down to a stack of pancakes. This Marvel Deadpool 3 Piece Towel Set adds superhero style to your sauna or bath.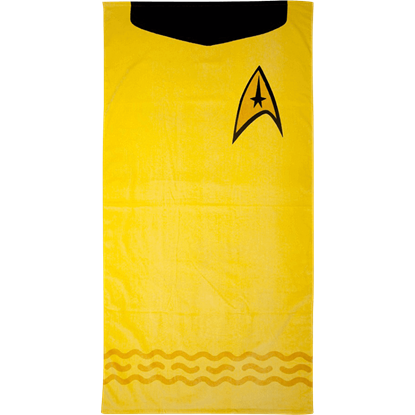 Item # RB-90294
Before heading off to explore distant galaxies, make sure to perform your morning ablutions with a licensed Star Trek TOS towel! The Star Trek Kirk Uniform Beach Towel features a design inspired by the gold command uniform.