Driven mad after having acid splashed over half his face, the good-natured Harvey Dent is overcome by the evil persona Two Face. Obsessed with duality, the two personalities duel within this supervillains mind. Appearing in live action and animated television shows as well as video games and the Dark Knight films, Two Face originated in comic book form in 1942. At Superheroes Direct, we have a variety of Two Face apparel, such as t-shirts for adults and children featuring this villain along with fellow members of Batmans rogues gallery. Our Two Face costumes and suit t-shirts are perfect for embracing a new side of your personality, and our drinkware, playing cards, and other collectibles are great for showing off your love for this dual sided character from the DC Universe.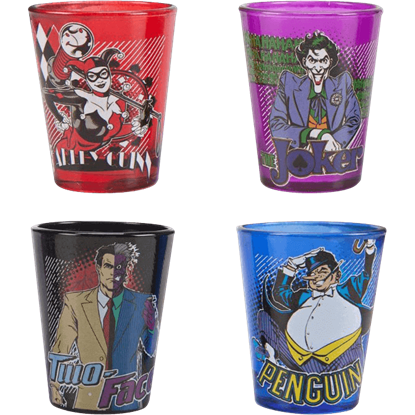 Item # NW-BN031SG8
The only characters from the comic books you know and love that are more iconic than the heroes are, well, the villains! Showcase your favorite adversaries of the Caped Crusader with the Batman Villains Four Piece Shot Glass Set!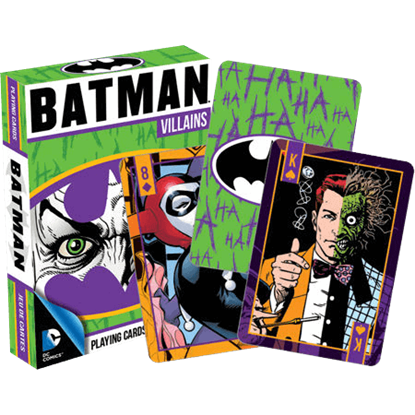 Item # ND-52265
While superheroes get most of the attention, sometimes the villains deserve interest, as well. The DC Comics Batman Villains Playing Cards let you to show your support for the many clever enemies of the Dark Knight with a 52-card deck.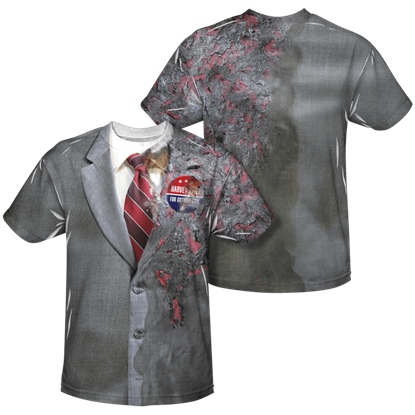 Item # ZB-2095
Embrace the ideal of justice without the massive scar tissue with the stylish Two-Face Burned Suit T-Shirt. Harvey Dent wanted to spread fairness with the flip of a coin, and now you can impress your friends with his burned suit.